Citroën TYPE H Panelvan Tow Truck - 2022
€ 58.500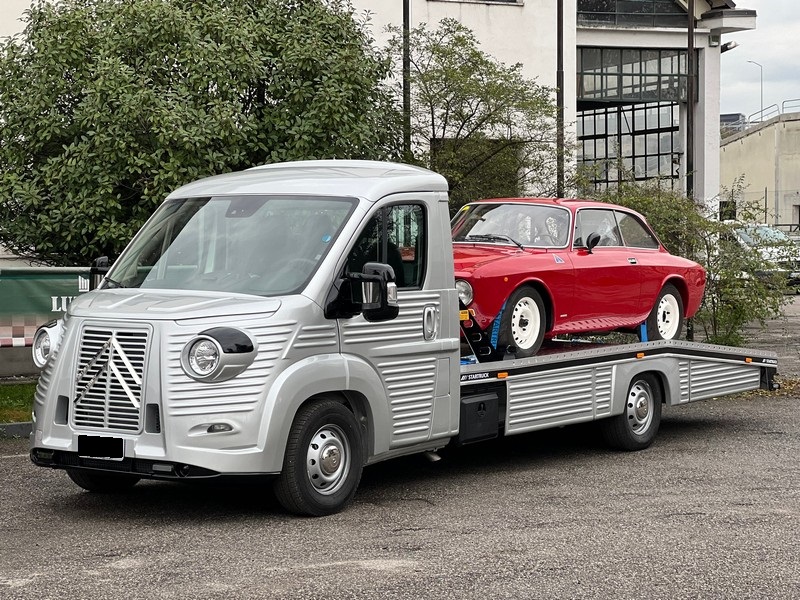 Under appointment
Description
Luzzago 1975 Srl is the sole reseller for Italy in the sale of Limited Edition Citroen commercial models TYPE H, TYPE HG, FOURGONNETTE made by Carrosserie Caselani under Citroen official license.
Perfect for nostalgics and lovers of classic cars, we offer this model of Citroen TYPE H Tow Truck, based on the latest version of the Citroen Jumper. The new Citroen TYPE H Tow Truck takes up the aesthetic design of the most famous French commercial vehicle in the 60s TYPE H.
The new tow truck is produced under official Citroen license by Carrosserie Caselani.
The product we offer is full of options: air suspension, cruise control with assisted braking and lane maintainer with visual and acoustic signal, 6-speed manual gearbox, tow hook, winch and leather steering wheel with controls.
2179cc Common Rail 16V Euro 6.4D – FCM Turbo Diesel engine with 140hp.
Tank capacity of 90 litres.
Load capacity of 35 quintals.
The car is ready for turnkey delivery at €48,720 + VAT.
Gallery
Technical data
Brand
Citroën
Model
TYPE H Panelvan Tow Truck
Year
2022
Mileage
70 (odometer)
Fuel
Benzina
N. Doors
2
N. of Seats
3
Exterior colour
Silver
Interior colour
Black
Gearbox
Manuale
Speed
5+R
Dysplacement
2179
Cylinders
4
Registration plate
Italiana
Driving Position
Sinistra
KW/CV
103/140
Chassis Number
VF7YDBPAU12V28822
Engine Number
4H03 - 4HB
Availability
Su appuntamento
Optional
ABS
Air conditioning
Airbag
Alarm
Cruise control
Disc brakes
Electric side windows
Fabric interior
First registration book
Matching Numbers
Safety lock
---