Moto Guzzi Galletto 192 - 1965
€ 4.500 3.500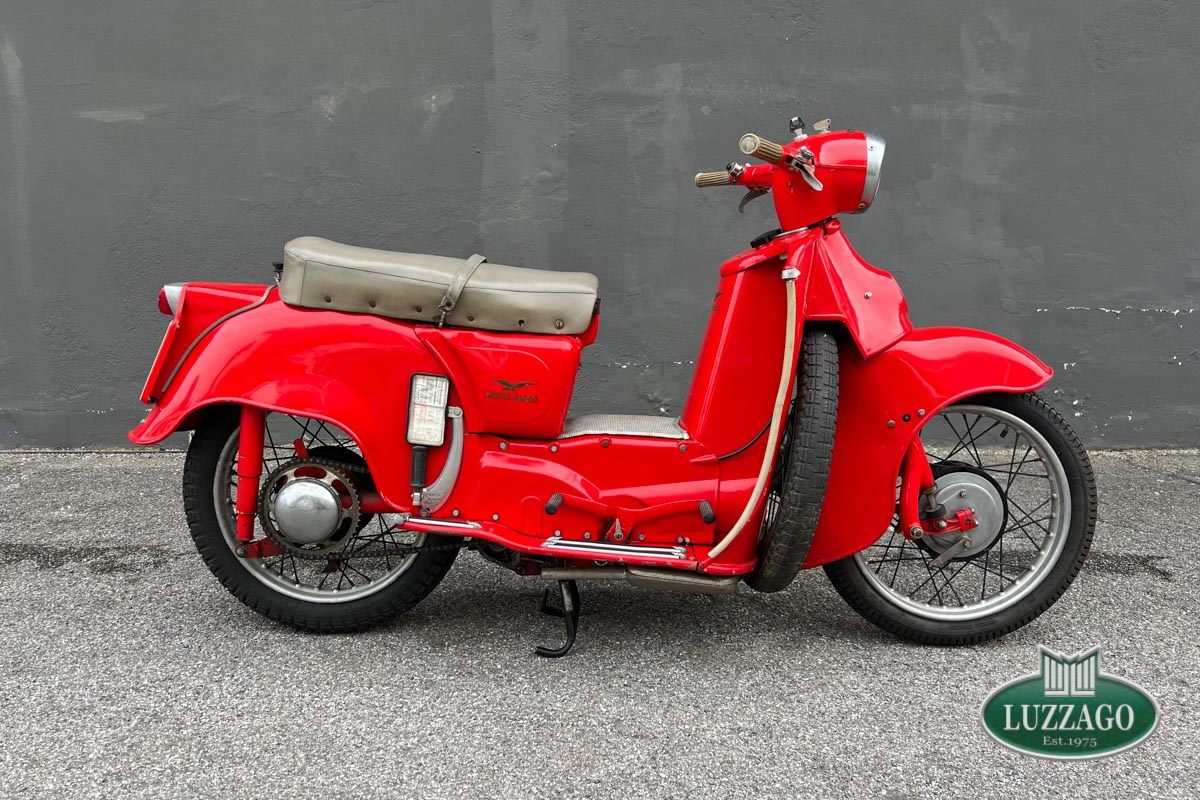 Offer!
Description
Galletto 192 from 1965, one of the last before the end of production. Motorcycle in perfect working order, registered for the first time in Modena and then re-registered in 2000 due to loss of registration document.
MODEL HISTORY:
The Galletto was born from the project of the founder of the Carlo Guzzi company, who decided to combine the advantages of a high-wheeled motorcycle with those of a scooter, eliminating the drawbacks of both: the vehicle in fact provided protection to the driver, ease of use, availability of a spare wheel (mounted between the front wheel and the front part of the frame although considered an accessory to be purchased separately) typical of a scooter combined with the performance, comfort and road holding of a motorcycle.
The evolution of the motorcycle was the result of a gestation that began already around 1947: the first experiments in Moto Guzzi of a vehicle with the characteristics of the Galletto, but developed in 125 cubic centimeters, date back to this year.
The prototype was presented at the 1950 Geneva Motor Show and immediately achieved considerable success, thanks to its qualities of comfort and resistance. Presented with a 150 cm³ engine, it entered the market some time later with an engine increased to 160 cm³[1].
At the 1952 Milan Motor Show, a revised version of the Galletto was presented, with an engine increased to 175 cm³ (7 HP, 85 km/h) with a four-speed gearbox equipped with an electrical system with an emergency function in the event of battery failure. At the beginning of 1954 the engine was further enlarged, reaching 192 cm³ (7.5 HP) and acquiring electrical power supplied by a 6 Volt dynamo.
In 1956, the Ercolino three-wheeler was developed and put on the market from the Galletto engine.
The last version of the Galletto dates back to 1961, recognizable by various aesthetic changes (front end, handlebars, rear mudguard, saddle) and mechanical ones, of which the most important was the application of the electric starter.
With the transfer of ownership of Moto Guzzi from the Parodi family to SEIMM, it was decided to eliminate all models deemed obsolete or unprofitable, including the Galletto, which went out of production in 1966.
The Galletto 192 appeared in the first months of 1954: the homologation was granted on 13 May 1954. The vehicle, with the introduction of the dynamotor starter, would then be the subject of a new homologation on 6 August 1960. The numbering of the examples produced ranges from GAA00 to GRM99. Including the electric start version, 40,250 units of the 192 cc version were produced.
Gallery
Technical data
Brand
Moto Guzzi
Model
Galletto 192
Year
1965
Mileage
18878 (odometer)
Fuel
Benzina
N. of Seats
2
Exterior colour
Red
Interior colour
Beige
Gearbox
Manuale
Speed
3
Dysplacement
192
Cylinders
2
Registration plate
Italiana
KW/CV
5/7
Chassis Number
G422E
Engine Number
H
Availability
In sede
Price
€ 4.500 3.500
Optional
Chrome wire wheels
Drum brakes
First registration book
FMI homologation
Matching Numbers
White plate
---