Citroën Traction Avant 11BL - 1955
€ 29.000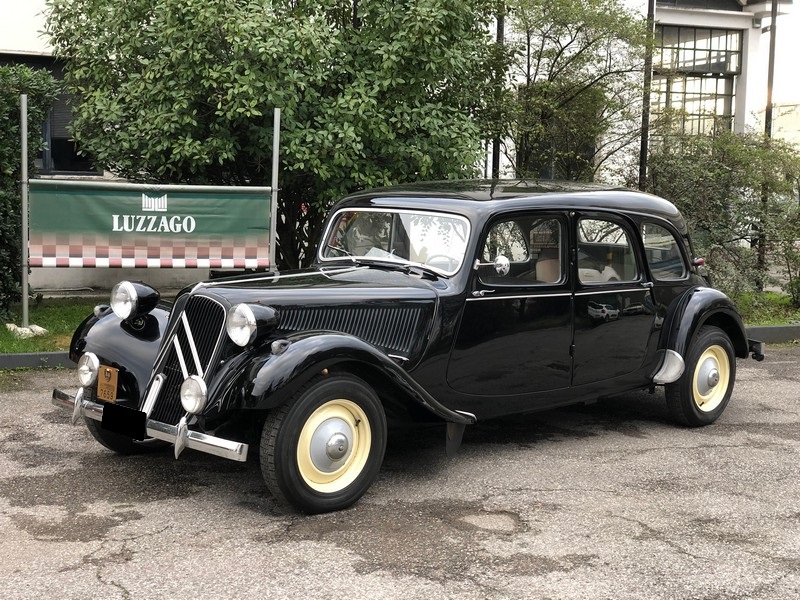 Beautiful Traction Avant 11B from 1955. ASI gold plate approved. It has Italian number plates and registration certificate from 1994.
All revisions have been performed, the last one will expire in December 2024.
The proposed version is the latest series, the most up-to-date with the engine that will later be dedicated to the DS. In particular, this TA 11B differs in the elongated frame, the presence of an extra side glass on the side, and the 8 seats.
The Familiale and Commerciale now have 12 inch drums at the rear, same as the 15 Six. Twin rear lights on all Traction Avants.
In May: A new engine, the 11D is introduced. This engine also powers the DS which is introduced this year as well. This engine can be identified by the inscription "11D" between the second and third sparkplug (previously: "11"). There is a side mounted oil filler neck and a new airfilter. Compression is raised to 6.8:1, the camshaft is modified as well as the rockers, pistons, conrods, crankshaft and the sump. This new engine which still is 1911cc, gives 60 hp @ 4000 rpm. It's not the power increase but rather the wide torque range of the engine that gives it it's new refinement.
July: New carburettor, rubber boots on the driveshafts.
Gallery
Technical data
Brand
Citroën
Model
Traction Avant 11BL
Year
1955
Mileage
57424 (odometer)
Fuel
Benzina
N. Doors
4
N. of Seats
8
Exterior colour
Black
Interior colour
Grey
Gearbox
Manuale
Speed
4+R
Dysplacement
1911
Cylinders
4
Registration plate
Italiana
Driving Position
Sinistra
KW/CV
41/56
Chassis Number
411529
Engine Number
11D
Availability
In sede
Price
€ 29.000
Optional
ASI omologation
Drum brakes
Fabric interior
Matching Numbers
SKAI interior
---