Citroën Traction Avant 11BL - 1955
€ 29.000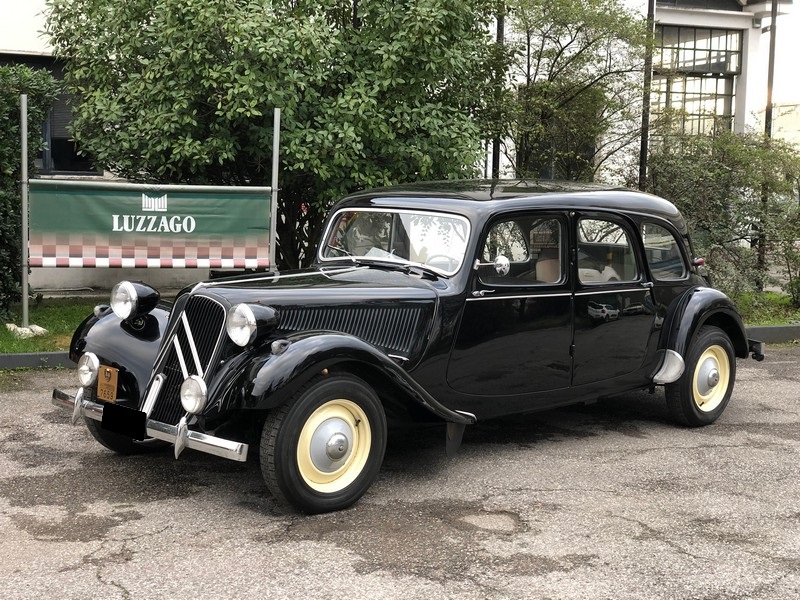 Description
Beautiful Traction Avant 11B from 1955. ASI gold plate approved. It has Italian number plates and registration certificate from 1994.
All revisions have been performed, the last one will expire in December 2024.
The proposed version is the latest series, the most up-to-date with the engine that will later be dedicated to the DS. In particular, this TA 11B differs in the elongated frame, the presence of an extra side glass on the side, and the 8 seats.
Model history and curiosity
La Familiare e la Commerciale ora hanno tamburi da 12 pollici nella parte posteriore, come la 15 Six. Due luci posteriori su tutte le Traction Avant.
A Maggio: viene introdotto un nuovo motore, l'11D. Questo motore alimenta anche il DS che viene introdotto anche quest'anno. Questo motore può essere identificato dalla scritta "11D" tra la seconda e la terza candela (precedentemente: "11"). C'è un bocchettone di riempimento dell'olio montato lateralmente e un nuovo filtro dell'aria. La compressione viene portata a 6,8:1, l'albero a camme viene modificato così come i bilancieri, i pistoni, le bielle, l'albero motore e la coppa. Questo nuovo motore, che è ancora 1911 cc, eroga 60 CV a 4000 giri/min. Non è l'aumento di potenza, ma piuttosto l'ampia gamma di coppia del motore che gli conferisce la sua nuova raffinatezza.
Luglio: nuovo carburatore, cuffie di gomma sugli alberi di trasmissione.
Gallery
Technical data
Brand
Citroën
Model
Traction Avant 11BL
Year
1955
Mileage
57424 (odometer)
Fuel
Benzina
N. Doors
4
N. of Seats
8
Exterior colour
Black
Interior colour
Grey
Gearbox
Manuale
Speed
4+R
Dysplacement
1911
Cylinders
4
Registration plate
Italiana
Driving Position
Sinistra
KW/CV
41/56
Chassis Number
411529
Engine Number
11D
Availability
In sede
Price
€ 29.000
Optional
ASI omologation
Drum brakes
Fabric interior
Matching Numbers
SKAI interior
---