Chevrolet Corvette C1 - 1954
€ 89.000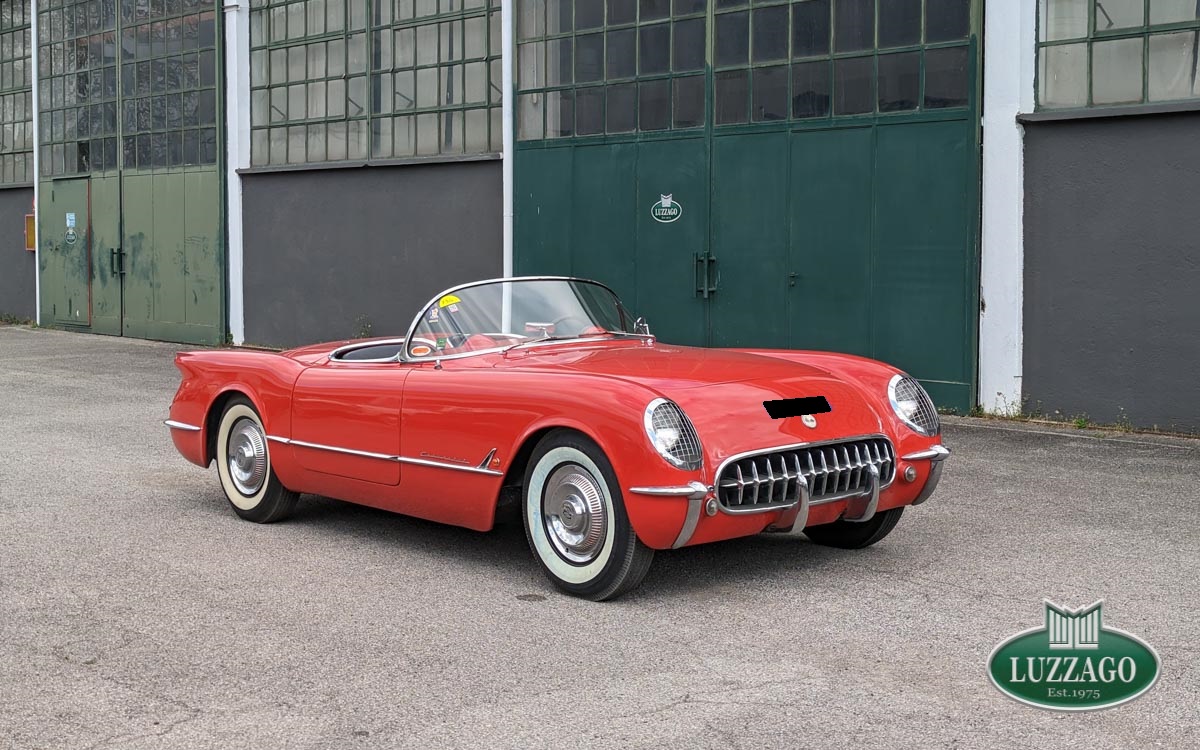 Description
Very beautiful and extremely rare to find on the market this Chevrolet Corvette C1 first series is built in 1954. It has a 6 cylinder in line engine renamed "Blue Flame". The car is homologated with an ASI gold plate and duly registered in Italy.
Model history and curiosity
La Chevrolet Corvette C1 è una autovettura sportiva, prima generazione dell'omonimo modello, prodotta dalla General Motors con il marchio Chevrolet a partire dal 30 giugno 1953 al 1962.
Questa generazione è comunemente chiamata ad "assale rigido", poiché la sospensione posteriore è a ruote interconnesse.
La Corvette è stata messa in produzione subito dopo il debutto del primo prototipo, per sfruttare il forte interesse e clamore suscitato dal pubblico durante la presentazione della concept car, ma le aspettative preventivate di vendita sono state in gran parte disattese, con le vendite che si sono attestate al di sotto delle previsioni.
Harley Earl, all'epoca a capo del centro stile della GM, era un appassionato di auto sportive europee. Riscontrò che i soldati che tornavano in patria dopo aver prestato servizio in Europa negli anni successivi al secondo dopoguerra riportavano negli USA molte piccole sportive europee come le MG, Jaguar e Alfa Romeo. Earl convinse i vertici GM che avevano bisogno di costruire un'auto sportiva a due posti tutta americana, e così con la sua équipe iniziò a lavorare sulla nuova auto alla fine del 1951.
Per contenere i costi, il dirigente della GM Robert F. McLean impose che i componenti meccanici dovessero essere standardizzati. La nuova vettura utilizzava il telaio e le sospensioni delle autovetture Chevrolet prodotte negli anni 1949-1954. La trasmissione e l'abitacolo vennero arretrati per ottenere una migliore distribuzione dei pesi. Il motore base all'esordio era un sei cilindri in linea 235 da 3,85 litri, derivato dai propulsori che alimentava gli altri modelli Chevrolet, ma con un rapporto di compressione più elevato, tre carburatori Carter e un albero a camme differente; la potenza era di 150 CV (112 kW). Poiché in Chevrolet non era disponibile un cambio manuale in grado di gestire 150 CV, venne utilizzato un cambio automatico Powerglide a due velocità. Il tempo nello scatto da 0 a 60 mph (0-97 km/h) era di 11,5 secondi. Il corpo vettura e la carrozzeria esterna era realizzato in materiale plastico rinforzato con fibra di vetro.
Gallery
Technical data
Brand
Chevrolet
Model
Corvette C1
Year
1954
Mileage
76500 (odometer)
Fuel
Benzina
N. Doors
2
N. of Seats
2
Exterior colour
Red
Interior colour
Black
Gearbox
Automatico
Speed
4
Dysplacement
3859
Cylinders
6
Registration plate
Italiana
Driving Position
Sinistra
KW/CV
112/150
Chassis Number
E54S003460
Engine Number
0726698 F541G
Availability
In sede
Price
€ 89.000
Optional
ASI omologation
Drum brakes
Skai interior
Sun roof
---