NSU Max 250 - 1956
€ 4.900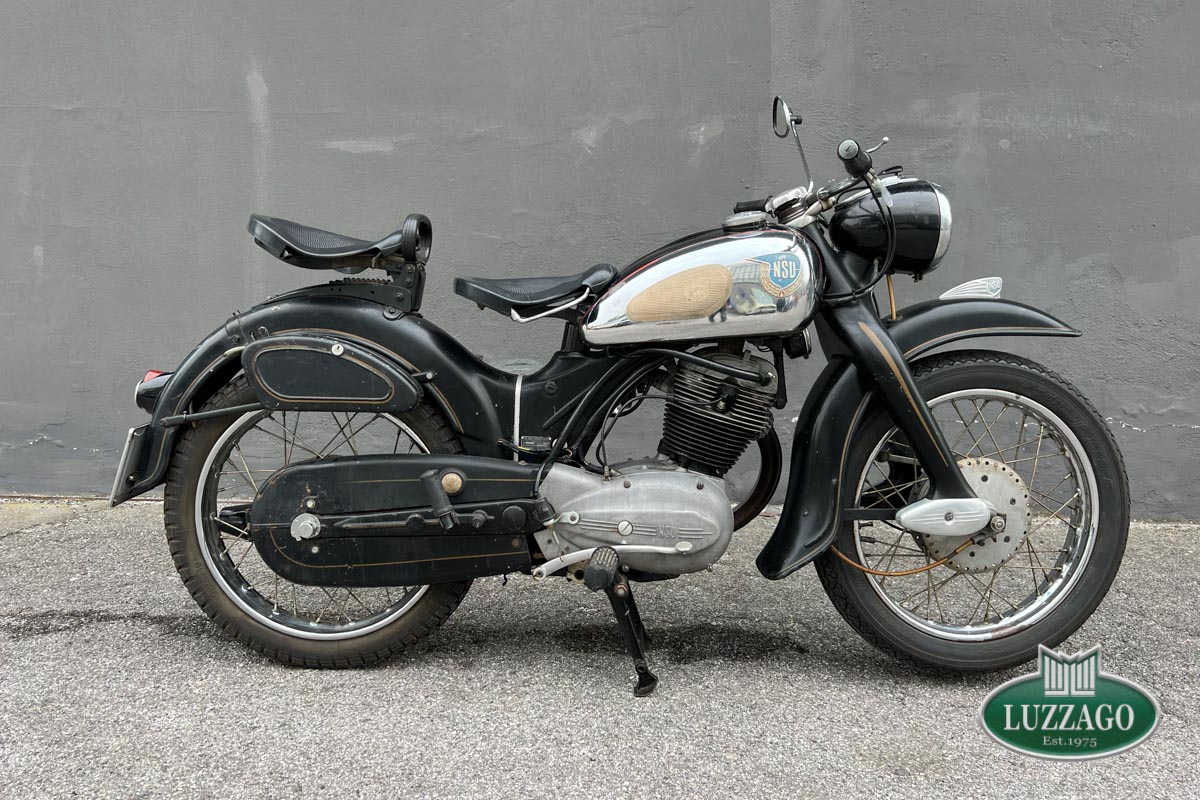 Description
NSU 250 Max motorcycle registered for the first time in Italy in 1956 and then registered with Bologna due to a change of province in 1959. It still has second registration plates today. Motorcycle entirely original in all its parts, retains the patina of the paintwork. Perfectly working.
MODEL HISTORY:
Having rebuilt the factories destroyed during the Second World War, NSU resumed motorcycle production in 1949 with the Fox 98 cc. To enter the quarter-litre sector, very popular in West Germany in the early 1950s, the Neckarsulm company relied on Albert Roder, who created two models that shared the chassis, suspension and brakes: the Fox 250 with a two-stroke engine and the Max 250 four-stroke.
The latter was presented at the 1952 Frankfurt Motor Show, entering production the following year accompanied by a massive advertising campaign and benefiting from excellent performance: with its 15 HP it is the most powerful quarter-litre on the market. This is reflected from a commercial point of view: in 1953 alone, 24,403 were sold, making it the 250 best-selling in Germany.
For the 1955 season NSU, which officially withdrew from racing at the end of 1954, presented a quarter liter derived from the production Max, called Sportmax, entrusting it to Hermann Paul Müller, John Surtees, Sammy Miller and Hans Baltisberger, who obtained the world title of the category with Müller.
Gallery
Technical data
Brand
NSU
Model
Max 250
Year
1956
Mileage
78181 (odometer)
Fuel
Benzina
N. of Seats
2
Exterior colour
Black
Gearbox
Manuale
Speed
4
Dysplacement
246
Cylinders
1
Registration plate
Italiana
KW/CV
9/12
Chassis Number
200023*7
Engine Number
793114
Availability
In sede
Price
€ 4.900
Optional
Black plate
Drum brakes
First registration book
---