Subaru Impreza WRX STI Type R Version 3 RHD - 1997
€ 45.000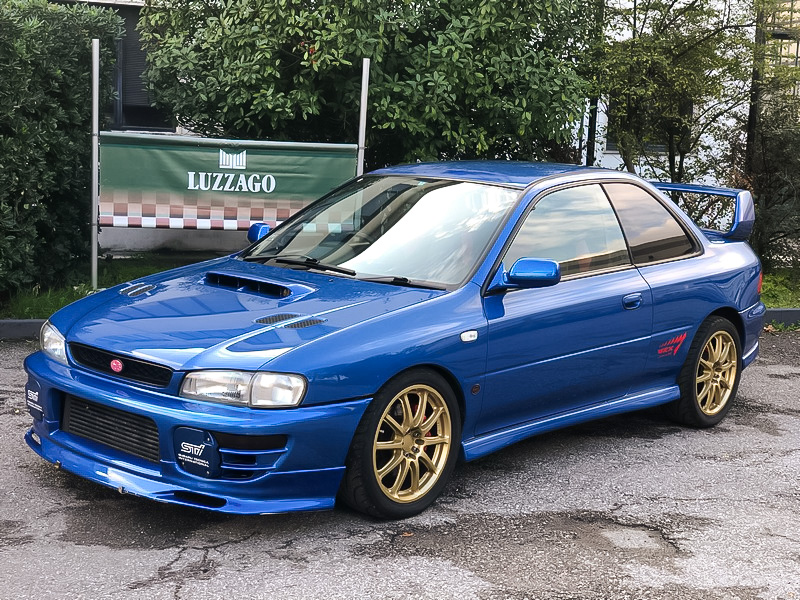 Description
CAR BUILT ONLY TO ORDER IN 1371 EXAMPLES.
The Impreza WRX STI Type R was introduced in 1997 and is a 2-door coupe version of the RA and has several features aimed at homologation for rallying. This is the vehicle Prodrive used for its Group N customer cars and also the donor vehicle for the Group A WRC in 1997, 98, 99 and 2000.
The 2-door body is slightly stronger/stiffer than the 4-door RA, and there is a rear header which further increases stiffness. The differences between the Type R and the JDM 4-door STi models are:
2-door body
Short ratio gearbox
Adjustable Electromechanical Center Differential (DCCD)
ABSENCE OF ABS
Intercooler water spray
Rear brake caliper with two opposed pistons (the other versions have a single piston at the rear)
Tinted rear windows
No electric antenna
No radio/stereo
The gear ratios of the Type R and Type RA are much shorter than those of the standard STi (which themselves are lower than those of the British model). Gear ratios have lengthened in recent years. The 1997 Type R's fifth gear is actually shorter than the British Impreza's fourth.
The Type R introduced in 1997 was also the first Impreza STi to have a high-rise rear spoiler and color-matched side skirts. The standard STI models only got the larger spoiler and coded side skirts the following year.
Gallery
Technical data
Brand
Subaru
Model
Impreza WRX STI Type R Version 3 RHD
Year
1997
Mileage
123000 (odometer)
Fuel
Benzina
N. Doors
2
N. of Seats
4
Exterior colour
Metallic blue
Interior colour
Black
Gearbox
Manuale
Speed
5 + R
Dysplacement
2000
Cylinders
4
Driving Position
Destra
KW/CV
205/280
Chassis Number
GC8055897
Engine Number
EJ20 796889
Availability
In sede
Price
€ 45.000
Optional
ABS
Airbag
Allory wheels
AWD
Car Radio
Disc brakes
Electric side windows
Fabric interior
Fog light
Power steering
Safety lock
---