Mercedes-Benz 190E 2.5 16v Evolution 1 (1 of 502) - 1989
P.O.R. - Prezzo su richiesta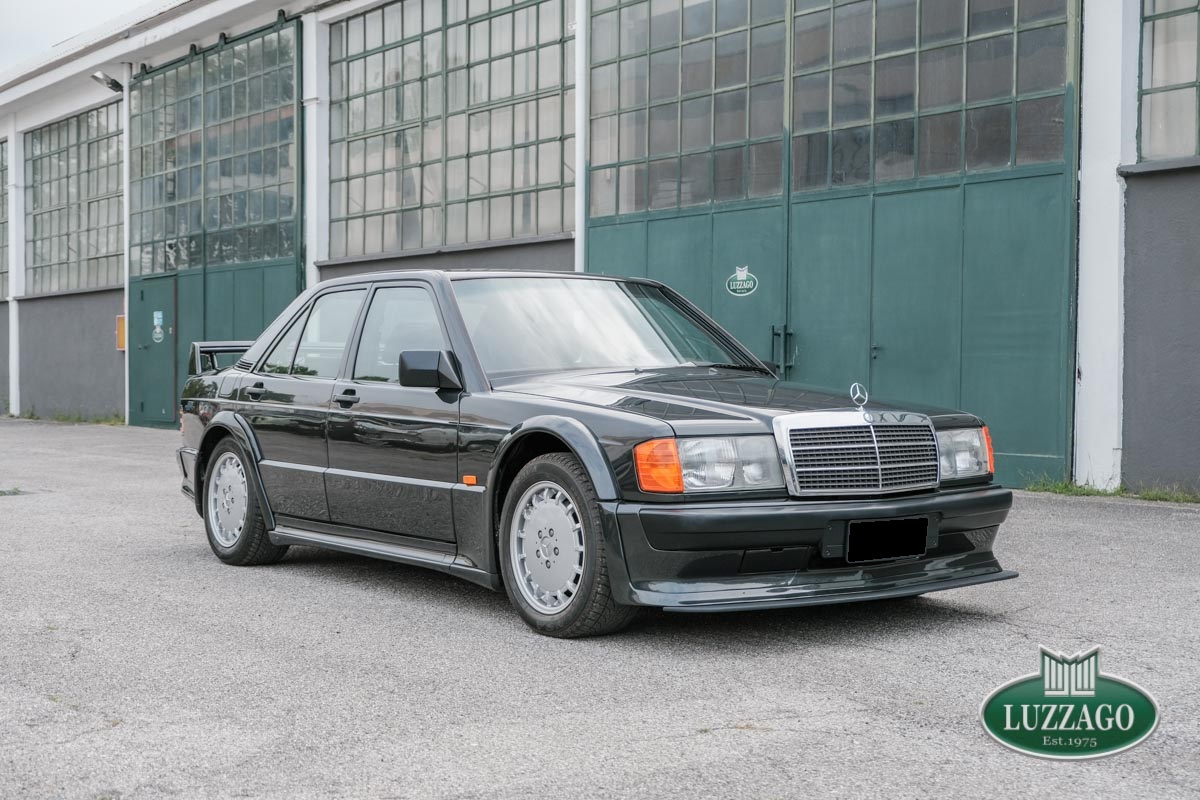 New!
Description
One of the very rare examples left, exactly the n.48 of 502 EVOLUTION street version created to be able to participate in the DTM.
The first version debuted in 1989, the most graceful and least flashy, however aggressive. This specimen has always been Italian, registered in 1989 in the province of Savona, then later reregistered in 1995.
Evolution use and maintenance manual present.
It underwent important work to preserve its excellent state of conservation from 2018 to 2019. Complete overhaul of the hydraulic suspensions and the entire chassis. All the plastic parts have been replaced trying to preserve the original components as much as possible. The bodywork has been completely repainted with the total disassembly of all the crystals. The upholstery is completely original.
Collector's car binding price.
registered with CRS ASI since 2009.
Model history and curiosity
Nel settembre del 1988 vi fu l'avvento della seconda serie: un leggero restyling interessò sia l'esterno (nuovi paraurti con colorazione in tinta, inediti fascioni laterali in plastica colorata come la carrozzeria, mascherina-radiatore modificata) che l'interno (diversa consolle centrale e nuovi rivestimenti). La gamma dei motori rimase invariata, ma tutte le 190 ora offrivano cambio a 5 marce e ABS di serie. Le versioni a benzina oltre 2 litri adottavano di serie la marmitta catalitica. Sempre nel 1988, la 2.3-16 vide l'incremento della cilindrata da 2,3 a 2,5 litri (2498 cm³ per l'esattezza), divenendo 190 E 2.5-16 . Questo nuovo modello erogava una potenza massima di 204 CV.
Nel 1989 al Salone di Ginevra debuttò anche la 190 E 2.5-16 Evolution, dotata di un nuovo motore da 2463 cm³, quindi differente da quello montato sulla 2.5-16. Anche la carrozzeria era modificata, con una grande ala posteriore e parafanghi allargati, che caratterizzavano fortemente questa versione sportiva della berlina Mercedes-Benz.
Nel 1990 la 190 2 litri a carburatore venne rimpiazzata dalla 190 E 1.8 (115 CV), con motore di cilindrata ridotta a 1798 cm³ e alimentazione a iniezione. Contemporaneamente tutte le 190 adottarono la marmitta catalitica di serie. Nello stesso anno venne proposta la 190 E 2.5-16 Evolution 2, aggiornamento della prima Evolution, che stavolta vide il motore da 2,5 bialbero portato a 235 CV di potenza massima.
La produzione terminò nel 1993, quando venne lanciata la prima generazione di Classe C.
190 E 2.5-16 Evo
Denominata Evo (o Evoluzione in Italia) ed introdotta nel 1988, questa vettura montava un nuovo motore da 2,5 litri, della cilindrata di 2463 cm³. La nuova unità da 2,5 litri era stata concepita per avere maggiori possibilità di elaborazioni sportive. La potenza massima della versione stradale rimaneva comunque invariata a 204 CV, mentre miglioravano leggermente le prestazioni. Nella versione non catalizzata, la velocità massima raggiungeva i 235 km/h. Esteticamente la Evo (come pure la successiva Evo II) si distingueva nettamente dal resto della produzione per le appendici aerodinamiche e i passaruota allargati, quasi mai visti su vetture del genere; spiccava su tutto il grosso alettone posteriore. Per ottenere l'omologazione nel Gruppo A sono necessari almeno 500 esemplari: questo modello venne quindi prodotto in 502 esemplari. Il DTM del 1990 terminò con la Evo del pilota Kurt Thiim piazzata al terzo posto e quella di Klaus Ludwig al quinto.
Gallery
Technical data
Brand
Mercedes-Benz
Model
190E 2.5 16v Evolution 1 (1 of 502)
Year
1989
Mileage
88266 (odometer)
Fuel
Benzina
N. Doors
5
N. of Seats
4
Exterior colour
Black
Interior colour
grey
Gearbox
Manuale
Speed
5 + R
Dysplacement
2463
Cylinders
4
Registration plate
Italiana
Driving Position
Sinistra
KW/CV
172/204
Chassis Number
WDB2010361F614814
Availability
In sede
Price
P.O.R. - Prezzo su richiesta
Optional
Allory wheels
ASI certified
Disc brakes
Fabric interior
Matching Numbers
SKAI interior
White plate
---