Amilcar Type G spider Carr.Weimann RHD - 1926
€ 36.500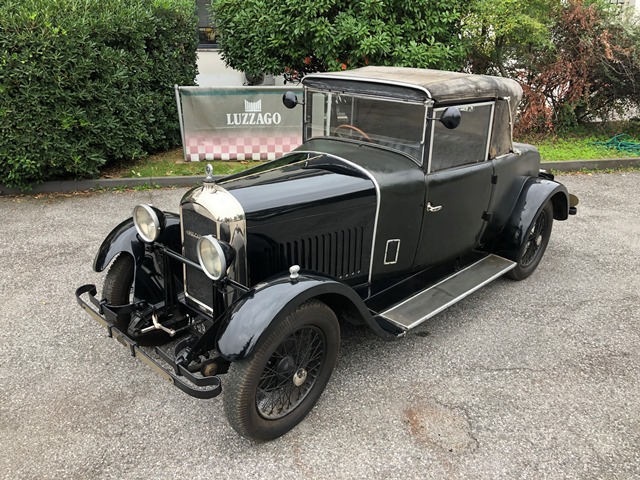 Description
Built by Amilcar in 1926, it is the spider version of the G Carr.Weymann type, also flanked by the sedan and coupe versions. This specimen found near Paris in 2002 belonged to a French gentleman since the 1960s. The car is in an extraordinary state of conservation of the interior and exterior, it preserves the original softop and leather interior.
Model history and curiosity
La Type G fu proposta dalla Casa di Saint-Denis per sostituire la sfortunata Type L: il telaio era identico, anche nelle soluzioni tecniche applicate. Si avevano quindi un cambio a 4 marce e sospensioni a balestre semiellittiche ed ammortizzatori sui due assi. Anche il motore era lo stesso 4 cilindri da 1244 cm³ in grado di erogare 27 CV di potenza massima. Identiche anche le prestazioni: la velocità massima era compresa tra i 100 ed i 110 km/h, a seconda del tipo di carrozzeria, che era offerta in tre varianti, ossia berlina, coupé e cabriolet, esattamente come nella Type L.
La differenza stava nello stile del corpo vettura, più squadrato e convenzionale. Evidentemente si riteneva che della Type L non avesse funzionato l'idea del corpo vettura dalle linee arrotondate.
Ma anche la Type G non riscosse molto successo e venne pensionata prematuramente nel 1927.
Gallery
Technical data
Brand
Amilcar
Model
Type G spider Carr.Weimann RHD
Year
1926
Mileage
48500 (odometer)
Fuel
Benzina
N. Doors
2
N. of Seats
4
Exterior colour
Black
Interior colour
Black
Gearbox
Manuale
Speed
3+R
Dysplacement
1244
Cylinders
4
Registration plate
Italiana
Driving Position
Sinistra
KW/CV
15/20
Chassis Number
71292
Engine Number
G-21458
Availability
In sede
Price
€ 36.500
Optional
ASI omologation
Drum brakes
Matching Numbers
Skai interior
Sun roof
---
You may also be interested
Find your dream car